Come on over to the Champlain Club for an afternoon of food, fun, history, and community connections.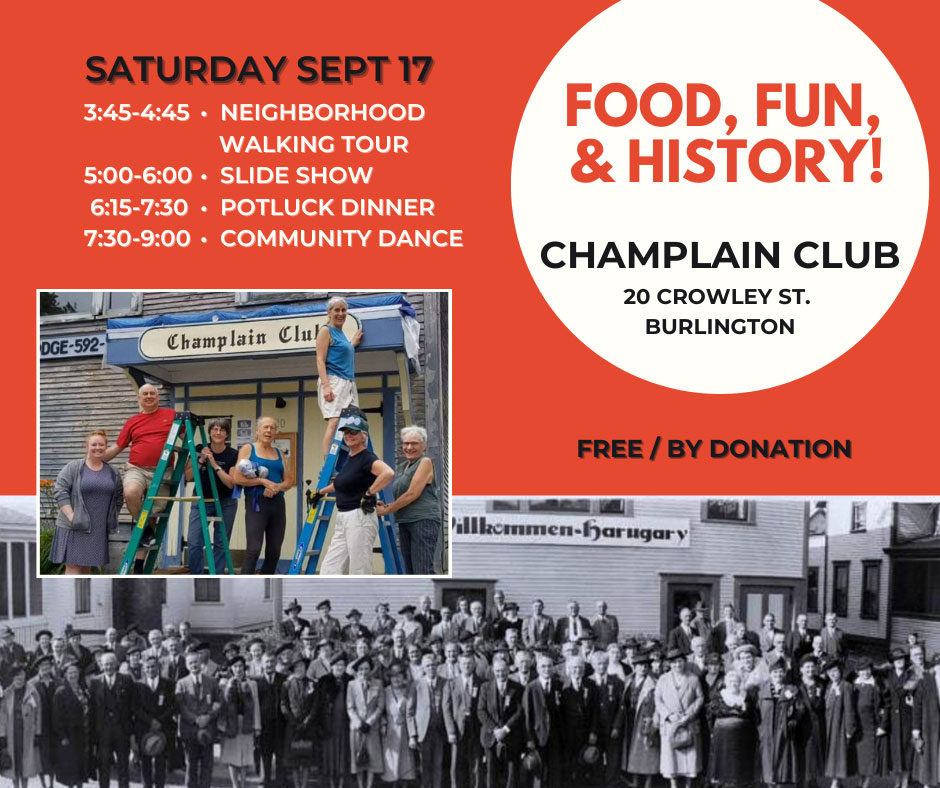 Stories from the past! Explore the neighborhood, then stay for dinner and a dance.
Join a walking tour…check out a local history presentation and slide show…bring a dish for our community potluck…stay to dance!
Friends, family, neighbors and community—join us for all or just a part of the festivities!
Curious about this 1896 social hall on Crowley St. in the Old North End?
Visit with the folks from Preservation Burlington to learn the history!
Check out our restored dance floor and tour through this cool old building.
Watch the interview with Ron Wanamaker of Preservation Burlington and Champlain Club President John Antram on the preservation effort for the building.
Event Details
Saturday September 17
3:45 – 4:45 Neighborhood Walking Tour
5:00 – 6:00 Slide Show
6:15 – 7:30 Potluck Dinner
7:30 – 9:00 Community dance!
Free / by donation.
Register here on SevenDays Tickets (helpful—not required!).
Questions or interested in volunteering? Contact friends@champlainclub.org.
Potluck suggestion: if your last name starts with…
A-G: bring an appetizer
H-M: bring a main dish/entree
N-T: bring a salad or side dish
U-Z: bring a dessert
Presented with Preservation Burlington.